Velocity
Value Stream Mapping Introduction
A value stream map is a visual tool that displays all critical steps in a specific process and easily quantifies the time and volume taken at each stage.
As Wikipedia describes Value Stream Mapping is a lean-management method for analyzing the current state and designing a future state for the series of events that take a product or service from the beginning of the specific process until it reaches the customer.
A value stream map is a visual tool that displays all critical steps in a specific process and easily quantifies the time and volume taken at each stage.
DevOps Value Streams
Value Stream Mapping to chart and understand the critical steps in a specific process and quantifies easily the time and volume taken at each stage, identifying key constraints like slow handoff interactions.
The DevOps Institute explains why it is necessary, stating it's essential to understand the flow of work across the value stream from the idea to software deployment and ensure that we set up feedback loops until the customer or the user realizes the business value.
As Dominica DeGrandis explains in this blog the disconnects between systems and departments are typically the main focal point of errors and lost time and delays. The handoffs generate a considerable wastage of time and effort, slowing the DevOps Flow.

Writing for the New Stack, Jeff Keyes of Plutora, defines that Value Stream is the Future of DevOps is in Value Stream Management, highlighting that often DevOps mistakenly focuses purely on tools and automation, and that VSM is key to unlocking high performance.
The Carnegie Mellon Software Engineering Institute blog Taking DevSecOps to the Next Level with Value Stream Mapping explores in detail the relationship between DevOps and Lean principles, popularized by Toyota, describing that VSM is a Lean technique for visualizing, characterizing, and continuously improving the flow of value across this set of end-to-end activities by eliminating barriers, whether procedural, cultural, technological, or organizational.
Gene Kim of IT Revolution walks through Where to Start with DevOps Value Streams, suggesting a framework that considers greenfield vs brownfield scenarios, and how to navigate the types of organizational challenges that may arise as these lean principles are applied.
On the VMware blog Mandy Storbakken provides an example of value stream mapping IT workflows and how this can illustrate the means for defining DevOps Flow metics, via a server provisioning process: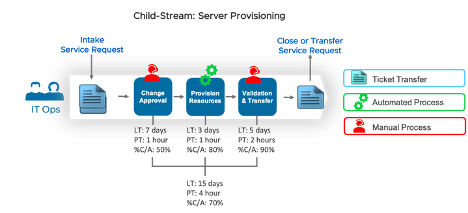 50% Complete & Accurate – Half the time, this stage cannot be completed without gathering more information or correcting something; 1-hour Processing Time – This stage could be completed in one hour, if there were no delays; 7 days Lead Time – This stage typically takes seven days to complete, which could be time in the queue, time awaiting additional information, or time  waiting for the change review board.
She adds:
"The metrics across all stages, from ops intake to ops hand-off, show that while it typically takes around 15 days to complete the stages, the actual processing of work only accounts for four hours over  that time (15 days LT, four hours PT). An Activity Ratio (AR) – which is the total process time divided by the total lead time, times 100 – can also be derived from these metrics."
From this she concludes by articulating how VSM typically uses four core metrics to analyze the flow of work through each stage in a value stream, and that these metrics should be derived from actual timings for each stage (not based on SLAs):
Lead Time (LT) – Time to complete the stage, from intake to hand-off.
Process Time (PT) – Time it could take to complete the stage, if all information were complete and the process were uninterrupted.
Complete & Accurate (%C/A) – How often the stage can be completed without needing additional information or corrections.
Value Added (VA) – A 'yes' or 'no' indication of whether the stage adds direct customer value.