Velocity
Maximizing Value Stream Efficiency: The 3 Pillars of Empiricism Explained | Stephen Walters
Keynote at The DEVOPS Conference - Global 2023: INSPECTING THE FLOW OF VALUE STREAMS
The 3 Pillars of Empiricism are Transparency, Inspection and Adaptation.
This means working in a fact-based, experience-based, and evidence-based manner as defined by the DevOps Institute.
When inspecting the performance of delivery in your value streams, are you looking at the results subjectively or objectively? Is it based on feelings or facts?
This presentation will define the measures we should inspect, how we should inspect and when is the best opportunity to do so, demonstrated using examples from GitLab.
In this keynote recording we learn:
What are the typical measures for the flow of value?
How to inspect value?
When is the optimal opportunity to inspect?'
Speaker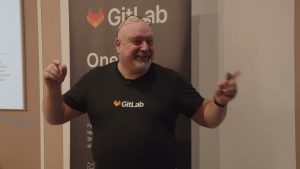 Stephen Walters has been in the IT industry for over 30 years and is an extensively experienced Subject Matter Expert in Value Stream Management, DevSecOps, DevOps, ALM, SDLC and IT4IT, with management & consultancy experience across end-to-end IT disciplines.
Currently also operating as an Ambassador for the DevOps Institute and an Influencer in the Value Stream Management Consortium, he has an interest in all things DevOps.
Certified in Value Stream Management, DevOps, SAFe, CMMI, ITIL, TOGAF and Prince2, Stephen is currently implementing leading edge thinking into Value Stream Management at GitLab to enhance the complete DevOps experience.